steel dragons wrote:

So you start out as a girl or...as a girl?

Also, thanks for the compliment
Yep, and no problem!~
Anyhow, I'm wanting to get this show on the road since it is a rather long game. Since no names were suggested I'll go with the default, Renko.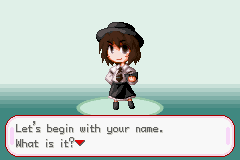 It's Renko, yo.
Oh hi, buddy of mine. How are you?
As tempting as it is to name him, 'Person' I'll go with Green.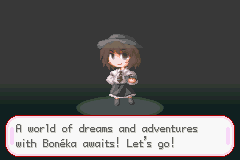 Well, here we go!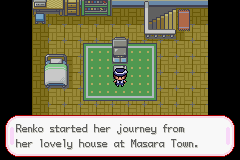 I'm pretty sure that Masara is the Japanese name of Pallet. Hmm.
Oh, so it's just taking me through all this automatically?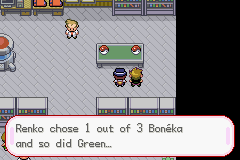 I don't even get to choose a starter...
One delivery later and we're still on autopilot. We get our Pokedex as usual.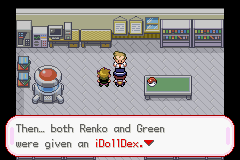 Or rather or iDollDex I suppose.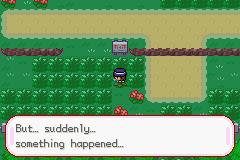 Oh?
It gets a bit dim and then lightning flashes. Suddenly we're somewhere entirely different, and it's raining buckets.
We look around in confusion, trying to get or bearings. None of this looks familiar though, so we begin to head towards some stairs.
Then this
thing
pops out that looks like a little girl.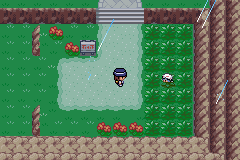 The screen pans up as she approaches us and we see a figure beginning to come down the stairs. She presumably beats some Nas. (What an interesting way of dealing with profanity.)
We wake up in a room with 2 beds and an item, potion, which we pick up before heading out.
Upon entering the next room we're asked if we remember what happened. We say no just for kicks even though we were traumatically violated by a small, doll like, little girl,
thing
.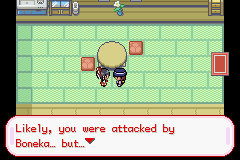 'But...'? You were practically there...!
Well, maybe I was just making that being violated thing up. Whatever. She also introduces herself as Hakurei, Reimu.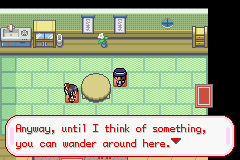 She tell us to get the Truck out for a bit, because it might help with our memory loss.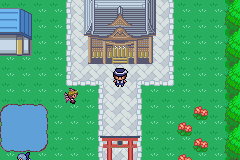 We end up back at the shrine.... and.... what's this?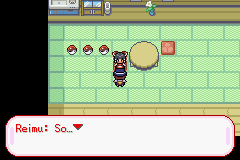 We get a town map shoved in our hands and told to seek a girl named Akyuu in a village west of here. Before we can leave, however....
CHOICE TIME!
The starters are:
Reimu, Marisa, and Sanae in their Chibi forms!
About forms:
Spoiler:
Typewise, cReimu is Normal/Flying, cMarisa is Electric, and cSanae is Grass/Water.
As for evolution:
Spoiler:
More evolutions are available via trading, but we will not be doing trades during this LP.
Have fun figuring out which choice is best.